Professional tool for creating pop up windows
Offer discounts, tell users about promotional actions and grow your email list.
Easy start
Set of ready-made designs
Basic display settings
Detailed display scenarios
Different scenarios of triggering
For creativity
Vast opportunities in constructing
Full customization of all elements
What are pop up windows for
They help to build a loyal customer contact base, inform visitors about upcoming promotions, sales, hand out promotional offers, discounts and more. Pop-ups directly affect the conversion of customers and sales growth.
Special version for mobile devices
Every day
mobile users visit your site.
A separate widget for such
visitors will help you interact with them.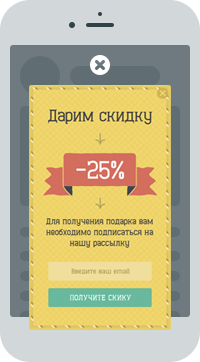 Multifunctional constructor
Intuitive and user-friendly editor allows to develop any design even without special technical skills.
Advanced settings for displays

When opening the page
The most frequent scenario: the widget is shown as soon as the visitor enters the site.

When viewing several pages
Select the number of page views, after which the widget will be shown to the visitor.

When trying to access the site
The widget will be shown as soon as the cursor starts moving towards the tab closing button.

When scrolling the page
Set the percentage of the page scroll length, after which the widget will appear.

When clicking the object
The widget will appear upon clicking on any element - button, link, image, etc.

Upon pointing to the object
The widget will appear upon pointing to any of the specified elements - button, link, image, etc.
Advanced settings
Display only on the specified pages of the site
Widget display delay
Restrictions of the re-display interval
Select the widgets location
Show to a determined segment of visitors
Show if the target is achieved
Display depending on the income source
Display depending on the browser and the OS
Display depending on the type of device
Prices
The cost of using the service depends on the amount of daily page views on your site.
Select the approximate number of page views, and we will calculate the flow rate.
Integration with email campaign services
Настраивайте автоматические рассылки по собранным контактным данным в виджетах
Integration with popular CMS
These solutions allow you to automatically place GetSale code and create a project on the popular CMS.